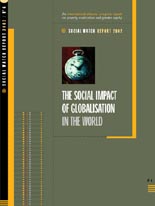 Social Watch publishes a yearly report in several languages. The reports can be ordered here or be downloaded free of charge.



Annual Report 2002

Content

Social Watch 2002:

World maps on poverty and wealth distribution.

Country by country progress towards the internationally agreed Social Development Goals

Recent trends in development assistance

The distribution of public expenditure in the world

The evolution of the gender gap in the world

Current status, progress and political will regarding Social Development Goals

In-depth reports on: anty-poverty strategies; the need for transparency in financial markets; ownership and participation in antipoverty strategies; the gender agenda and the Monterrey consensus; World Summit on Racism; The EU and the Millennium Development Goals.

48 country profiles by national citizen's coalitions

Table of contents...


The Social Watch 2002 report is also available in the following languages:

French
Rapport de Contrôle Citoyen 2002
Impact Social de la Globalisation à travers le monde
Table of contents..

German
Social Watch Deutschland Report 2002 / NR. 2
SOCIALE ENTWICKLUNG IN DEN ZEITEN DER GLOBALISIERUNG
Table of contents..

Portuguese
Observatório da cidadania - Relatório 2002 - N° 6
O IMPACTO SOCIAL DA GLOBALIZAÇÃO NO MUNDO
Table of contents..

Italian
IMPATTO SOCIALE DELLA GLOBALIZZAZIONE NEL MONDO
Social Watch – Rapporto 2002
Table of contents..



See the Social Watch 2002 indicators tables and graphs showing country by country progress towards the implementation of the international social development commitments.